We've been raising money for March of Dimes the past three weeks to take my mind off Baby Makin'. It's worked… I have thought about it maybe 1/8th the amount of time I thought about it last month, and we've been doing good stuff at the same time! It may have worked a little too good, but I'll tell you more about that later!
For those of you just stopping by my blog for the first time… I'm doing this photo contest to help spread awareness about March of Dimes and our fundraiser. Raising money for a charity that does so much for mothers and their babes. There are more than 40 Prizes up for grabs worth more than $1500!! So just donate $1 and you'll entered to win!
A couple of weeks ago we had a fun photo contest and several people asked for another so I'm doing one more to end the fundraiser with a bang!! Vote for your favorite pictures (you can choose more than one!) vote by Sunday night 10/18 at 11:59 when the fundraiser ends!
The winners will get a button that says their baby won the cutest baby contest. They'll also get one of the prizes (listed at the bottom of this post)! And of course you get the pride of knowing your baby won. There are all sorts of babies in this list! Hubbies, pets and kids too! They are all "our babies!"
I think all of these babies are so adorable, and I didn't enter but I wanted to show you my babies too!

I also made these buttons so you can display them on your blog this week, to tell your friends to come vote for you! POLL IS TO THE LEFT!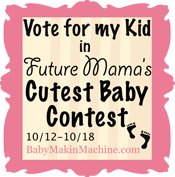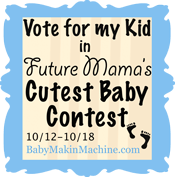 And with that, I hope you enjoy these cuties as much as I have!
Polls are to the left, and you can vote for multiple favorites!

Remember to scroll up to vote! POLL IS TO THE LEFT!
Just love photo contests? Here's a Happily (un)Haunted Halloween Photo Contest by Amanda!
Now to the Prizes!!
Boy Winner Prize:
A orange and green binky clip from CJ's Fine Designs.

Cindy is the woman behind this shop!
I would be happy to offer one of my binky clips. I will do the green and orange bubbles one. I will send you a picture to your email if you want me to. Just let me know what your email address is or you can grab the picture from my shop.
She's a mom of one, and has a wonderful, supportive husband by her side. Her son takes quite an interest in her business and always offers to help too. She also has two cats and two dogs. Her biggest challenge is keeping the pets away from my merchandise and fabrics!

She has been sewing since I was 8 years old!
"I never thought about making a living from it because it was always just a hobby," she said. " A friend of mine inspired me to start sewing for babies and children. I fell in love with my designs and fabrics. I design most of my own patterns and love each and every creation. I work a part time job along side of sewing for my shop. Even my part time job is working with children."
Learn more about Cindy by checking out her blog, her facbook page, or by following @CJsFineDesigns on Twitter!
Girl Winner Prize:
A mini-album of your choice from Hampshire Rose.


Mini albums are so versatile you can use them as brag book, throw them in your purse, put them on display in your home, ect. I can usually put a mini album together in about an hour.
Sharon has been scrapbooking for about 20 years. She would make gifts for friends and family and they would just love them.
About five years ago she moved out to California to take care of her parents, she lost her dad a couple months after she moved in with them and for the last five years she have been a full-time caregiver to her mom who suffers from Alzheimers.
She said it is very stressful, so her sister told her about etsy and she put a few things up and they started to sell!
"It has really helped her to have something else to concentrate on besides her mom," she said. "And it makes me feel useful and it's very relaxing for me. I never would have guessed that it would become successful like it has!"

Sharon is divorced and has a 25 year old son, and two little girl kitties Cali, and Bailey.
Hampshire Rose Memories is named for her mother, her middle name is Rose and she was born in Hampshire England it's her little tribute to her.
There are SO MANY albums to choose from! Winners gets to choose her favorite!
Awesome prizes right? So vote away!! Polls are to the Left!